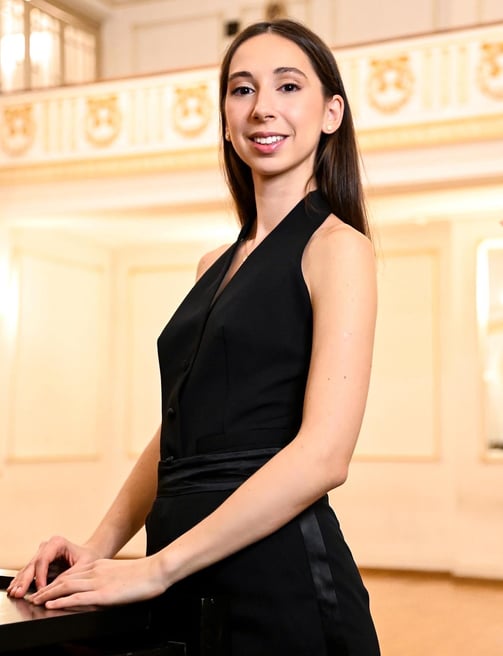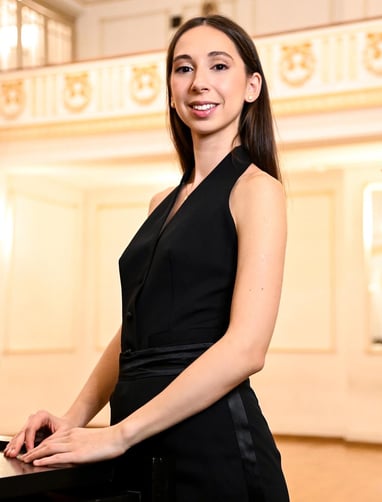 Nadja Dornik fell in love with music at the age of four. At first, Nadja began to play the piano, but as very quickly she was delighted harp, and in 2016, graduated at the Musical High School «Mokranjac» in Belgrade two classes at the same time – class of harp and class of piano. All that in just two years as a student of the generation.
The same year she was unanimously admitted to the Conservatoire National Supérieur de Musique et de Danse de Paris : harp in the class of Isabelle Moretti (now she is in postgraduate studies), piano in the class of Hortense Cartier-Bresson (undergraduate studies) and Frank Braley (postgraduate studies).
Nadja Dornik is a winner of more than thirty international and national competitions. Half of it as a laureate. Most importantly : Concours International Leopold Bellan (Paris), Interrnational competition Petar Konjovic (Serbia) , Rencontres Internationales de la Harpe en Ile de France, Windsor International Piano competition (England), Prokofiev International piano compétition (Prague), International competition Suoni d'Arpa (Italy) and Piano and Strings International Competition (New York)
She performed very young with renowned orchestras : the Geneva Chamber Orchestra, the «Stanislav Binički» in Belgrade and the Serbian Radio/Television Philharmonic Orchestra.
In the year 2017. Nadja had her own recital at 13th World Harp Congress in Hong Kong.
The competitions take her to meet the public all over the world - New York, Moscow, London, Paris, Windsor, Geneva, Milano, Florence. She performed with renowned artists, including flutist Sébastien Jacot, conductor Patrick Gallois and composer Daniel Garella. Composer with whom she recorded her first album at the age of 15. Last year, Nadja had several performances in France with the most famous French cellist Gautier Capuçon.
For the 2022/2023 year, she became the laureate of the Safran Foundation and the Meyer Foundation for Music. She also became the ambassador of the Academy Saline Royale for the year 2023.
She has worked with great names in piano pedagogy: Jacques Rouvier, Olivier Cazal, Jean-François Heisser, Epifanio Comis, Natalia Trull, Jean-Fréderic Neuburger, Till Fellner, Achille Galo, Robert Carney, Lidija Bizjak.